Poultry Testing And Product Information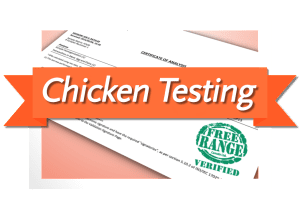 Nutrafarms Inc. Poultry Information
NUTRAFARMS INC. is exceptionally proud to offer Ontario-grown, ethically-raised chickens.  Our birds' vegetarian diet consists of 100% all-natural grain-feed void of any and all animal by-products and artificial growth agents.  Ethically-raised, the chickens are free-run and long-growth birds.  Their growing conditions mimic free-range environments while providing the safety and security of climate-controlled growing conditions and offer maximal protection from predators, cross-species infections and extreme weather. 
Given an abundance of space to roam freely, our barns' ventilation systems are designed to maximize air-flow and to create a constant influx of fresh outdoor air.  The free-run environment also stresses the importance of recreating natural light cycles in harmony with the season's.  Most importantly, free-run chicken barns are held to the highest standards of cleanliness with clean bedding of sustainably-sourced soft wood shavings or chopped straw.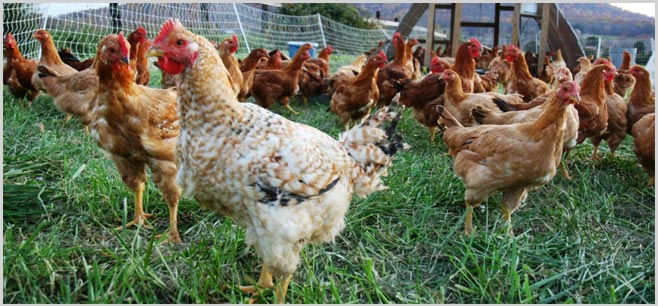 Just as important as how our birds are raised is how they are processed.  Our birds are processed under one of the last plants in Ontario to be supervised by live human inspectors, as opposed to the widely popular 'self-auditing' system.
With real people inspecting the birds, the line moves much slower ensuring the highest quality inspection.  Our unique processing plant is federally inspected, which represents the highest inspection standard that Canada has to offer.

Our birds are authentically air-chilled along over two kilometers of slow moving track as opposed to traditional plants that execute water ice chilled conditions. Because our chickens never undergo the conventional immersion water bath they retain all of their natural nutrients.  Discerning chefs also love the way an air-chilled chicken cooks, with a crispy skin on the outside and tender, juicy meat on the inside.
All birds are under inspection from the beginning to the packaging stages.  Our quality assurance program oversees the individual packaging of all farm-fresh cuts in heavy-duty, vacuum sealed packaging, preserving the quality and freshness of our premium poultry.