Try our Free Range Ontario Poultry Products!
---
Our Ontario grown chickens have ample space and access to quality food and fresh water, are not kept in cages and do not lay eggs. Our Ontario chickens are never given any hormones. All of our Ontario chickens are grain fed. Their feed consists of a grain and a protein source. About 70% is corn, wheat and barley and about 30% is protein consisting of soybean meal and occasionally canola. The chickens have access to their feed and clean water 24 hours per day.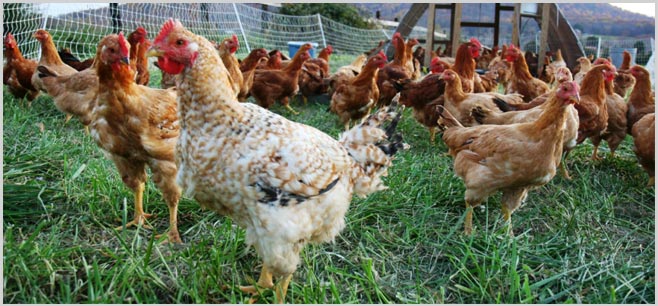 Our chickens are free to roam but usually prefer to stay in one area. They are housed in climate-controlled barns to protect them against hot summers, cold winters, predators, and disease. After each flock, our chicken farmers thoroughly clean and disinfect their barns. This gives them the distinction of having one of the highest cleanliness standards in the world. A clean bedding of soft straw or wood shavings is spread on the barn floor before the new chicks arrive.

Finally, we do not add water or any other proteins to our chicken products. We only sell pure Ontario poultry enabling us to give our customers a truly enjoyable and nutritious product.